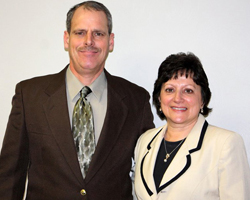 Pastor David J. Mitchel
Dave Mitchel received Jesus Christ as his Savior at 9 years old and later at age 20 fully dedicated his life to God. While serving in the United States Air Force, Dave joined Faith Baptist Church in Niceville Florida. Under the ministry of Pastor David Cosmo, Dave felt the call to preach and began attending evening classes at a local fundamental Bible Institute. While at Faith Baptist Church Dave was placed in charge of the churches visitation program as well as being involved in street preaching and local evangelism.
Upon being honorably discharged from the United States Air Force in 1981, Dave felt led to serve at Gettysburg Bible Baptist Church under the leadership of his father, Pastor Richard Mitchel. During this time Dave preached in nursing homes, jails, and the local rescue mission. In 1982 the church called Dave to serve as assistant pastor, preaching the Sunday evening services. In 1989, Dave, husband and father of two, while working a full time secular job, along with his assistant pastoral duties, began correspondence studies through Gulf Coast Bible Institute from which he received his 'Graduate of Theology' and 'Bachelor of Biblical Studies' degrees.

Having served as assistant pastor for eighteen years Dave was ordained in 1999. In April 2000, upon Pastor Richards desire to serve with the Fellowship Tract League and God's call, Dave was unanimously installed as senior pastor. His wife Patty, to whom Dave often refers to as 'his better half', serves faithfully by his side in various roles.