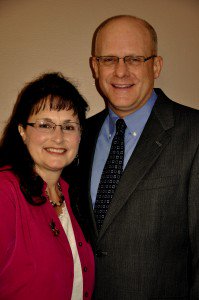 Evangelist and Mrs.Tom Palmer
Palmer Revival Ministries
www.palmerrevival.com

I can't explain it, yet even as a young boy that desire was very real to me. As a twelve year old boy, I surrendered my life to the ministry at Miracles Acres Youth Camp. I believed I yielded my life to the will of God to be a preacher at that point. No doubt the influence of my grandfather, Dr. George Palmer, and my father, Rev. Jack Palmer, who were both preachers, had a great influence on my life.

Throughout my teenage years, and during a year of Bible college at Pensacola Christian College, I received good training and valuable experience in the ministry. While I was a senior in high school, the ministry of revival became a great personal love through the life-changing impact of a month-long revival crusade in our church.

In June of 1980, I joined my father as his assistant pastor and youth director at Calvary Independent Baptist Church in Huntingdon, Pennsylvania. For nine very blessed and wonderful years, we served the Lord together. It was during this time that my wife, Patty, and I became acquainted. We were married in 1983 and completed our ministry at Calvary in July of 1989. In September of that same year, we committed ourselves to begin our revival and evangelistic ministry.

In recent years, we have conducted numerous revival meetings in churches, Christian schools and camps. It remains our desire to see God continue to work in reviving the hearts and lives of His people. We count it a great privilege and blessing to be a part of what God is doing across America and around the world.


"Revival is a community saturated with God, a church consumed with God, and a believer filled with God. That is what Palmer Revival Ministries is all about. Though our nation has likely passed the point of no return in so many ways, there is no point of no revival. It is often in the context of desperate days that God intervenes, drawing people to Himself and manifesting His presence in unprecedented ways. It is with that focus that we preach and pray. An encounter with God is an exceptional meeting with God that produces extraordinary results. As long as God is still God, revival is still possible. We are praying that our generation will meet with God in a way that will impact our nation for God."
Evangelist Tom Palmer
Dr. Jeffcoat has pastored in the states of South Carolina and Delaware.
In the US, he has served on the faculties of the Trinity Baptist College in Jacksonville, Florida (1987-1988) and The Northeast Baptist School of Theology in Downingtown, Pennsylania, as well as speaking as a guest lecturer at a number of other Bible colleges besides. In India, he has served on the adjunct faculties of The People's Baptist Bible College in Trivandrum (state of Kerala), the Berean Baptist Bible College in Bangalore (state of Karnataka), and The South Inidia Baptist Bible College in Coimbatore (state of Tamil Nadu).
He additionally served ten years in the field of evangelism.
His international efforts focus primarily upon India and the "10-40 Window."
Having labored in the pastorate, as an evangelist, and on the faculty of several Bible colleges, Dr. William Jeffcoat focuses his efforts on the mandate of worldwide evangelism.
His wife Samantha, being a gifted ladies' speaker, ministers to ladies on the foreign field as she labors at her husband's side. She also greatly contributes to the ministry through the instruction that she provides in the music departments of the various colleges. Her degree in counseling adds much depth to efforts in education and training.
As a family, we have been overjoyed for the privilege to labor together both at home and abroad. The Lord has been pleased to give each member their own unique personal gifts and use them accordingly.
Dr. Robert (Bob) Straughan is a Fundamental Independent Baptist. For over 28 years he has been involved in preaching and teaching. His desire is to be a help and a blessing to Independent Baptist Churches.
In addition to Pulpit supply and preaching at special meetings, Dr. Straughan also would be glad to preach/teach on specific topics which can be spaced to fit from one service to several days of meetings. Some of the topics available are:
Baptist History
Missionary Challenges
Creationism vs. Evolution
Cults in general
Mormonism
World Religions in general
Islam
Systematic Theology
History between the Testaments
Philosophy of Christian Education
You can view Dr. Straughan's writings at
www.earnestlycontendingbaptist.wordpress.com